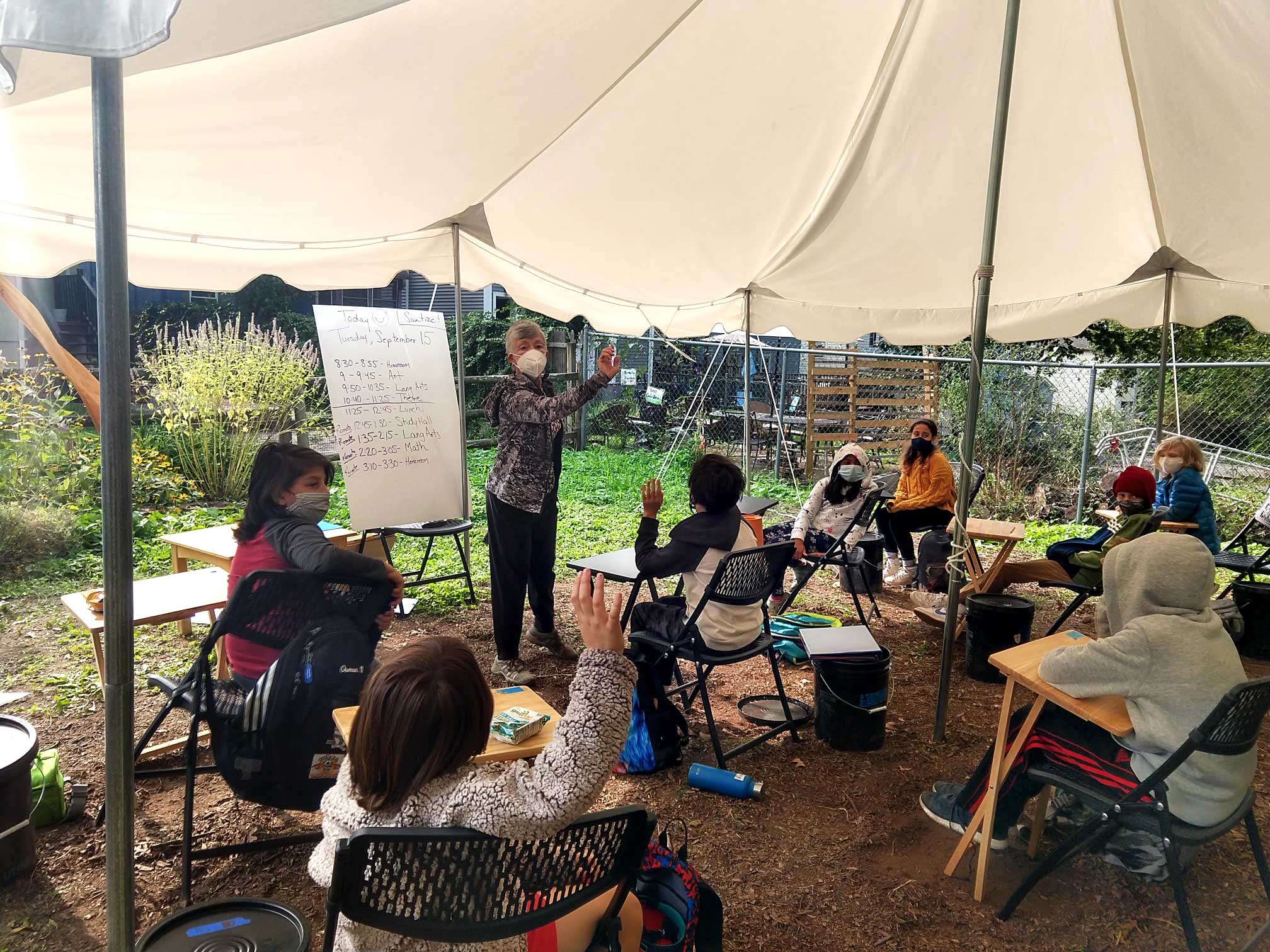 Today marks the end of the first two weeks of reopening the Co-op, and, yes, "It takes a village".
After months of dialogue, research, collaboration, meetings, planning, angst, hope and commitment, we welcomed back our families to 65 Chestnut Street on Thursday, September 10, 2020. Mother Nature decided to further challenge us by sending torrential rains our way just as our families were scheduled to arrive.
Ana was stationed at the Forest Street gate with Nurse Rita and Donna was teamed up with Dr. Rankin in the back playground area to greet carline families. We checked temperatures, recorded attendance and heard the words of so many families who said that "we are so very happy to be here". "Thank you for making this possible"."This is a magical place".
While we did our part in making this happen we have to thank and honor all of the families who dedicated their time, expertise and energy into making the "wish" to reopen a "reality". Families volunteered hours of time to install window fans in each room to ensure safe and adequate ventilation, to plant beautiful, colorful flowers in our flower beds to remind us that we are beautiful and growing, to spend a Sunday putting up tents securely so that our children are safe, to volunteering countless numbers of hours on the medical subcommittee to guide our school safely into reopening, to providing their architectural expertise in designing outdoor classroom space, to set up washing stations for safe hand washing protocols, to spending full days shelving books and creating pristine work space in the library, for removing a play structure that was no longer safe for the children's use and for the ongoing encouragement and support provided. To those who donated tents and equipment, we are also so very grateful.
To all of the teachers who worked beside us to envision teaching in the "new normal", creating new outdoor spaces, learning new technology, being present at evening meetings to speak with parents about the upcoming year and preparing their classrooms for the arrival of our students…thank you!
Our first day began with rain and ended with sunshine, paralleling the feelings of all of us who were there on our Day One. We started the day a bit uncertain, uncomfortable and tentative, and as the day progressed we allowed ourselves to feel and experience the joy of being back together.
All is not perfect and we face many challenges. We need to improve technology for our remote learners, recruit and onboard talented staff to support our in person and remote learning students, support our teachers as they do their best to teach in a dual modality, continue to monitor the trajectory of COVID19 in our state and continue to be vigilant in providing the best possible safety protocols for our community, create open and frequent dialogue with our community and be open to innovation and change that will support our mission.
We are committed to making this work for all of our students and families and are grateful for the support and encouragement that we continue to receive from our community. We thank you for taking this journey with us and for entrusting the gift of your children to our care.